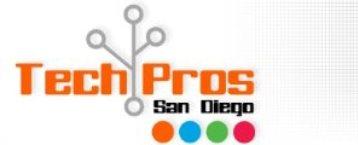 Check us out on....
http://www.reddit.com/user/TechProsSandiego/
https://delicious.com/techpros
It's easy to set up an appointment, just call for an immediate on site technician or an appointment at your earliest convenience.
tf. 800.572.6076 - anytime COMPUTER REPAIR SAN DIEGO
Tech Pros looks forward to hearing about all of your computer repair issues, questions, concerns or comments. Our Success is defined only by your satisfaction. We get it done efficiently and without traditional games that plaque our industry.